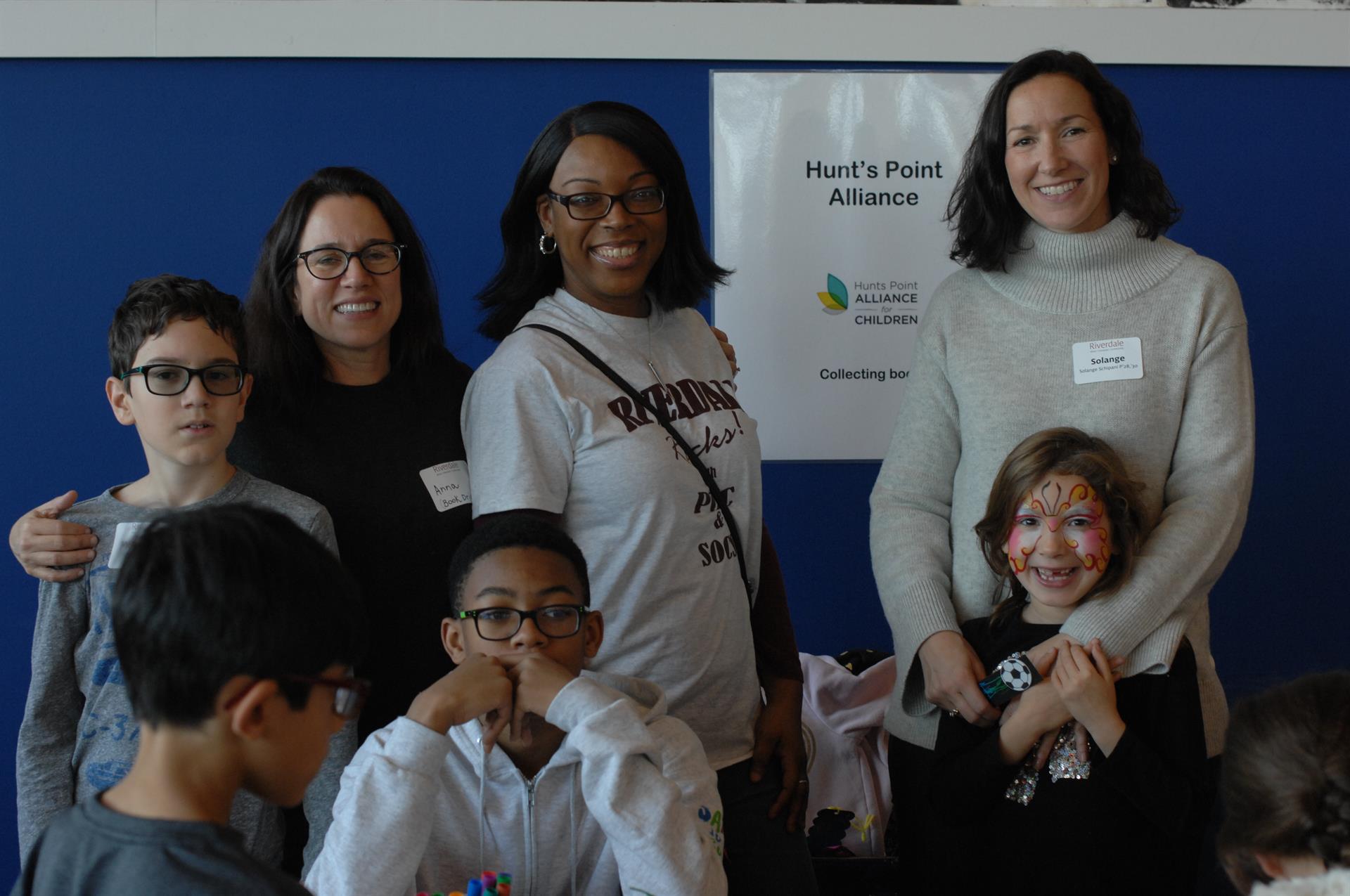 On Saturday, November 17th, alumni, students, parents, and faculty came together to volunteer and support local community partners for the 10th Annual Riverdale Community Action Day. Every piece produced from arts and craft activities and every item received from organized drives were donated to organizations that included Hunts Point Alliance, Bronx VA, Ronald McDonald House, and many more. RCAD was established in 2008 by RCS alumni to show students that service work in their communities does not end upon graduation. 
A rock and jazz band composed of RCS Alumni, Parents, and Friends practices weekly at the RCS Lindenbaum Center for the Arts. The band, directed by RCS music teacher Jane Getter, includes RCS alumnus and parent Mark Aaron '84, RCS parents Graciela Meltzer (married to Neal Meltzer '85) and Fritz Michel, and Gregory Flynn -- husband of RCS Upper School Dean Kelly Nicholson-Flynn. The band, which goes by the name "Betty & Veronica" after the so-named Riverdale students of Archie Comics fame, has played The Bitter End in Greenwich Village and is slated to appear in a feature film currently shooting that is a remake of the 1982 Barry Levinson classic, "Diner." 
Did you move or change jobs recently?
Stay connected and up-to-date with all things Riverdale. Update your contact information HERE.

In our Upper School assembly commemorating Veterans Day, the school paid tribute to Al Davis, World War II veteran, Bronze Star recipient, and beloved teacher and coach, and then heard about the military experiences of Staff Sgt. Rudy Nunez, Upper School mathematics teacher and member of the New Jersey Air National Guard. We thank them for their service.
From the Development Office
Thank you to those who have already donated to Riverdale this year! If you have not yet made your gift this calendar year and plan to do so before December 31, please take note of the following:
Checks made out to Riverdale Country School should be mailed to 5250 Fieldston Road, Bronx, NY 10471 and must be postmarked by Monday, December 31.

Credit card information received by mail after Thursday, December 27 will be processed in 2019 and will not qualify for a 2018 tax deduction.

Online credit card donations must be submitted before 11:59 p.m. EST on Monday, December 31. Please visit www.riverdale.edu/donate to make your contribution.
Bill Gardner '53 returned to Riverdale for his 55th Reunion this fall. Gardner grew up on Riverdale's campus as the son of D. Earl Gardner, a longtime math and Latin teacher who also served as assistant headmaster under founder Frank Hackett. Each year, Gardner demonstrates his gratitude to Riverdale by making a gift to the Annual Fund.
Riverdale Country School • 5250 Fieldston Road Bronx, New York 10471 • 718.519.2720 • alumni@riverdale.edu
Unsubscribe Please note: Unsubscribing from this email will opt you out of ALL Riverdale emails.