On the first day of Riverdale Country School's 116th academic year, our new Head of School, Karena (Kari) Ostrem, welcomed students on both campuses as they began – or continued – their Riverdale journeys.
The theme of Kari's remarks to all Middle and Upper School students and faculty was to make Riverdale a place where each student experiences belonging and the special bonds of community. "You students are the reason we are all here. You have dreams and passions. I want you to have the sort of supportive community so that you raise your hand when you don't know the answer rather than only raising your hand if you do. I want you to do this because the seed that's planted in that moment is what's going to allow one of you to cure HIV in the future. I want you to be able to share an idea for a project that you think is a little bit off because, in that moment, you're going to invent a new literary genre. I want you to feel the warmth of community so that no matter what happens, we're here to lift you up and make your world a kinder place."
During Middle School's opening meeting, Milton Sipp, Assistant Head of School for School Life and Head of Middle School, urged all the students to be kind to each other, not only in person but in the virtual world. "Be careful where social media is concerned." He challenged students to work together to build a year without behavioral or academic issues. "If you see your friend heading toward a bad decision, speak up and point that out. That's a true friend."
Every faculty member present was introduced, and many of them reiterated the message to "be kind." Faculty members also described the many exciting classes, activities, and athletic opportunities that Middle School students can look forward to this year.
At the River Campus, the youngest new and returning Falcons were welcomed as they climbed out of cars or down the steps of buses. Kari joined Lower School faculty and Associate Head of School and Head of Lower School James Duval as that team greeted students. There were waves, fist bumps, high fives, cheers, smiles, some running around campus, and lots of laughter.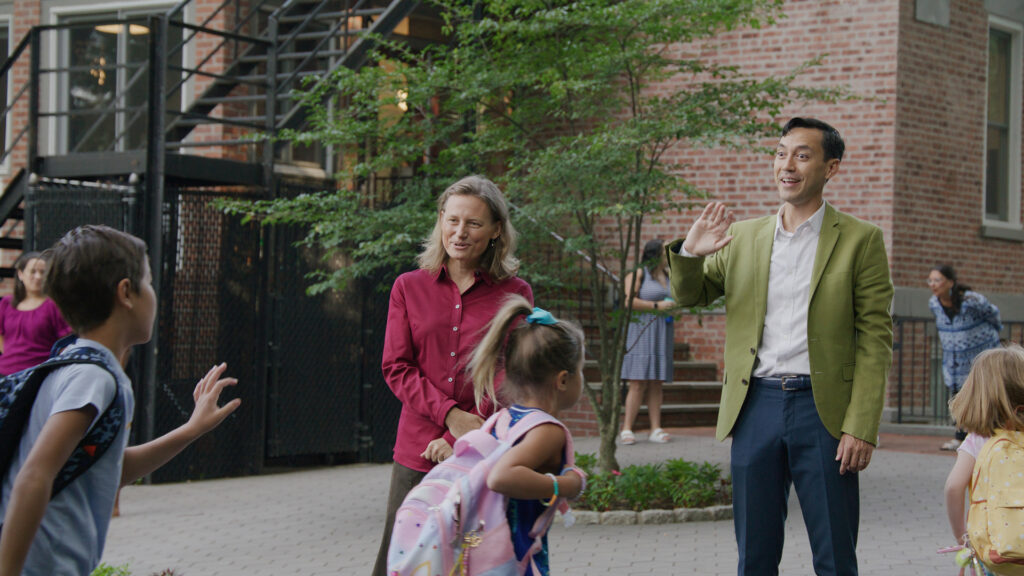 "It was a great pleasure to welcome both the new and returning Lower School students this morning," says James. "Everyone here – teachers and staff members – is excited about seeing smiles on the faces of our students and feeling the buzz of excitement and learning all around. I am really looking forward to seeing so many incredible moments unfold over these next 10 months."
Back on the Hill Campus, the Montag Gymnasium in the Zambetti Athletics Center was buzzing with energy as Upper School students and faculty members gathered for a special tradition: the senior class "walk-in." Every school year opens with the senior class making their grand entrance into the assembly. In alignment with this year's class theme of "20-24k gold," the class selected the music of Bruno Mars' "24k Magic" to accompany their walk-in and showed off outfits of black and gold. As is always the case, their arrival was met with a resounding cheer from their classmates in 9th, 10th, and 11th grades.
The Rivertones, the Upper School acapella ensemble, took center stage later in the assembly, treating everyone to a performance of Billy Joel's classic, "For the Longest Time." Their harmonious voices echoed the spirit of unity and joy that defines the Riverdale community.
Head of School Kari Ostrem is not the only new face at Riverdale. Along with numerous new faculty and staff at Lower, Middle, and Upper School, we have a new Head of Upper School, Mike Velez. "I'd like to challenge everyone here to commit to three important norms," said Mr. Velez: "Common Sense, Common Courtesy, and Common Cause." These principles can set the tone for a respectful and collaborative year, he added.
Also new on campus is Assistant Head of School for Strategy and Operations, Hanifa Barnes. In a new leadership role at Riverdale is Anna Hall, Chief of Organizational Learning. Jenna King, long the leader of enrollment and admission at Riverdale, is now Associate Head of School for External Affairs, adding events, communication, and enhanced responsibility for parent relations to her area.
Finally, Kari made clear to all Hill Campus students that she is dedicated to hearing their stories and ideas. Her first listening session will take place on Friday, September 8, at lunchtime. Any student is invited to stop by, share their stories, talk about passions, and ask questions.
"Together, we can create a nurturing environment where every student's story is valued and where the pursuit of academic excellence and personal accomplishment is our shared goal," says Kari. "I know I speak for all the teachers, staff members, and leadership when I say we look forward to an exciting year filled with growth, learning, and meaningful connections."