A fundamental part of the Riverdale Learning Experience is a belief in the power of service learning to help students grow and develop into responsible global citizens who can make positive change in the world. Through engaging and meaningful experiences, students are encouraged to connect with communities near and far, and take on the role of responsible leaders.
Rooted in our values of mind, character, and community, service learning, according to Director of Service Learning Rachel Klein, service learning at Riverdale, "aims to cultivate the thinker, ethicist, and citizen within every student through connections to our global and local communities." The program's ambition is to expand the Riverdale experience beyond campus by partnering with local, national, and global organizations in respectful reciprocity to meet community needs.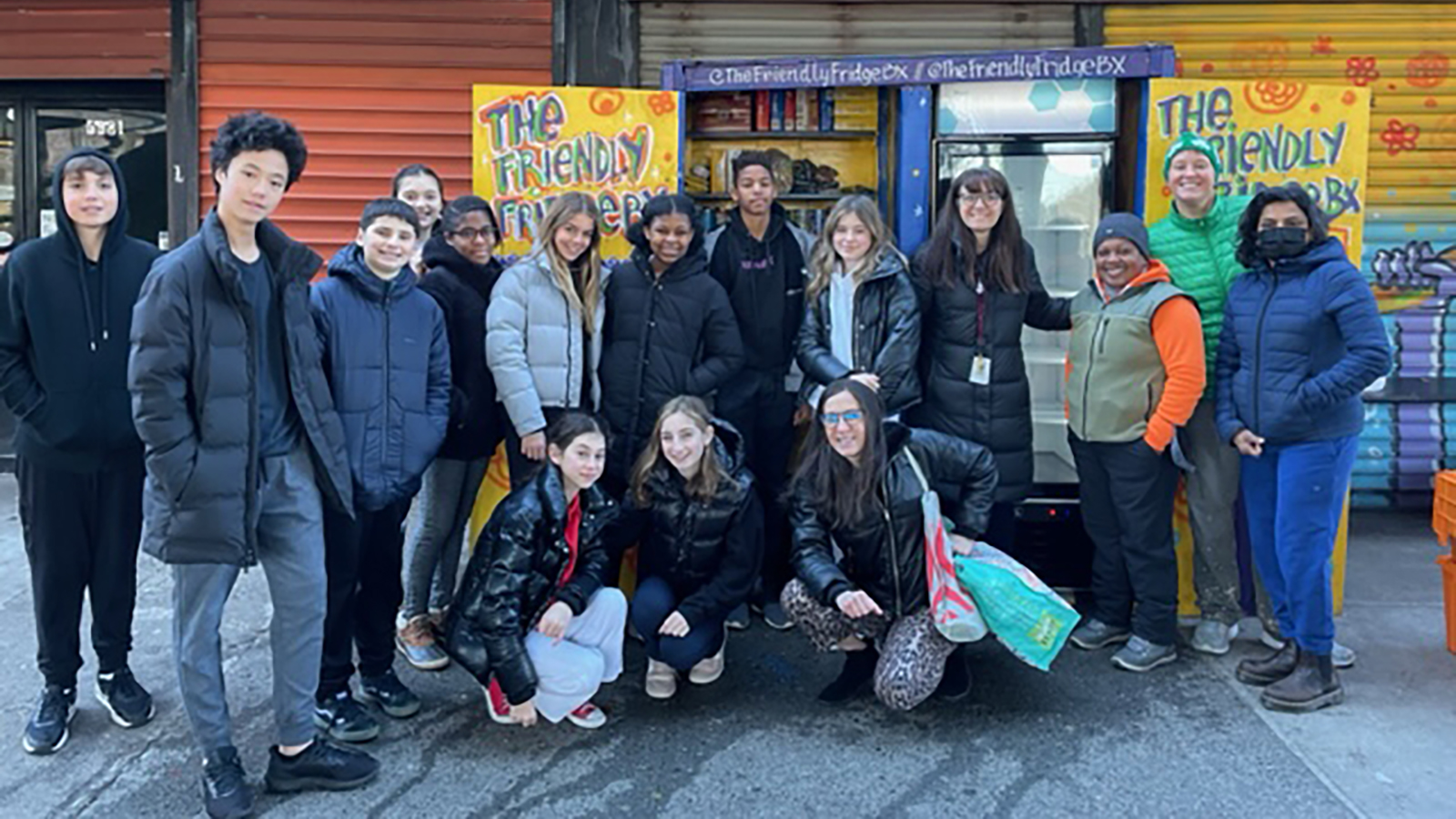 Through reflective post-activities, students are also encouraged to identify personal areas for growth. They're often challenged to operate outside their comfort zones and think about systemic issues of scarcity, access, and equity. Moreover, service learning opportunities enable students to grow, change, and learn by helping expand their sense of belonging and deepening their strength of personal purpose. "By being exposed to real-life challenges and opportunities for growth, they are equipped to think more deeply about themselves, their purpose, and the world around them," Klein says. A goal for Riverdale students is for these experiences to inspire them long after their time at Riverdale.
Students participate in service projects in various groups. Projects have included cleanups of nearby Endor Park and organizing food drives for The Friendly Fridge, a network of community fridges organized by volunteers who provide meals, fruits, and vegetables. Other students serve as homework helpers with non-profit organizations and schools in the Bronx, such as Part of the Solution (POTS) and the Earl Monroe Charter School. Many activity clubs in Upper School include a service component, such as Citymeals, which provides meals to homebound elderly New York City Residents, Challenged Athletes Foundation, assists, supports, and provides opportunity to people with physical challenges so that they can lead active lifestyles and compete in athletic events, and the Storytelling Club, helps young English language learners through mentorship, and reading and writing support.
All Middle School and Upper School grades participate in grade-wide service learning projects, such as the annual Senior class Breakfast with Bunny, with our partners at LSA Family Health Service, a non-profit organization providing community health and wellness and family support in East Harlem. The Junior class participates in the Best Buddies Friendship Prom in partnership with the international nonprofit organization dedicated to supporting people with disabilities. Some of our student athletes have opportunities to engage in service work with their teams. For example, the Girls Varsity Tennis team has hosted tennis clinics for children of Broadway Family Plaza, a nearby shelter in Kingsbridge.
Through these and many other activities, Riverdale students pursue learning in engaging, meaningful ways. They grow as ethical and responsible leaders who are better equipped to "change the world for the good."